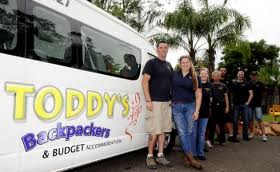 Toddy's Backpackers & Budget Accomodation
About Us
Toddy's Backpackers & Budget Accommodation is an Alice Springs family-owned and -operated business. Toddy's has been offering accommodation to travellers for over 30 years, and for quite a few of those years even offered Toddy's Camping Safaris and Balloon Safaris!
With the merging of the former Alice Sundown Motel (which became Elke's Backpacker Resort) and Toddy's Cabins (which became Toddy's Backpackers Resort), today's Toddy's is perfectly positioned to provide both backpacker dorm accommodation and private motel rooms for solitary travellers or visitors to Central Australia travelling with their partner, friends, family or a larger group.
Back when Toddy's first began, their aims included the following, and we're pleased to say that these aims still hold true!
Toddy's strives to create a friendly, informal atmosphere where fellow travellers can mix, enjoy each other's company and our country
Our service is friendly and personalised. Our staff has some of the best professionals available.
At Toddy's we carry a broad cross section of nationalities and age groups.
One of our aims is to keep our prices low, whilst providing you with as many benefits as possible.
The current managers of Toddy's Backpackers – Charissa & Kurt – have been on board since late 2009, and since then have undertaken plans to keep Toddy's at the peak of budget accommodation available in Alice Springs.
Already they've begun the process of renovating the dorm rooms, and have installed security gates to the property to ensure that you're safe and sound while staying with us.
On a business front, in just 10 months Toddy's has achieved Australian Tourism Accreditation Standard, and we're proud to show our Green & Gold Tick wherever we can.
From the owners to the housekeeping team, the whole Toddy's crew will continue to strive to make your stay with us as pleasant and as memorable as possible, for all the right reasons!
Want more info, visit our website
Contact Info
Phone No: 1800 027 027
Email: toddys@toddys.com.au